Forklift Operator Training
Who this is for
Companies of any size in Ohio, Kentucky or Indiana wanting a professional company to train or re-evaluate their forklift operators at their site on their equipment. If you are in another state, check out our forklift train the trainer certification
Benefits
Turnkey program, customized to each site and their equipment. Comprehensive classroom and challenging hands on evaluation. Includes site audit and recommendations for safety improvement. Meets and exceeds OSHA requirements.
Training Dates/Locations
We have regular training dates scheduled in Ohio, Kentucky, and Indiana.
Call us for a quote. 614-626-7685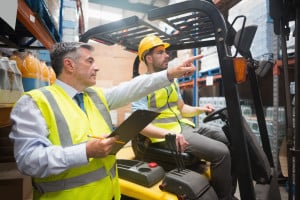 Additional Information
For companies that do not have a designated forklift operator trainer on staff, it is often necessary to outsource the training of new hires. Formal forklift operator training programs exist to fill this need. A typical class of this type includes the following:
● Thorough discussion of critical safety issues
● Site walk-through and forklift safety evaluation
● Photo documentation of site and equipment for customized safety program
● Preliminary survey to determine which issues are applicable to your situation
All of this could take place over a period of four to six hours, depending on your
site, equipment, and standard operations. After successful completion of the training portion of the class where students show an adequate understanding of the material, a hands-on test will be administered to evaluate the new operator's practical skill level.
These tests will always take place at the work-site on your company's forklifts, in compliance with OSHA regulations. This class will offer a true test of the operators' skills, knowledge, and safety. It will not be the type of training where everyone who merely shows up passes. You must put the work in and prove yourself capable.
Our trainers offer forklift operator training with enthusiasm and an infectious passion for safety the motivates trainees to adopt safe behaviors. We are willing to take on any job, no matter how big or small, in order to improve workplace safety across the nation. Our company offers operator training sessions throughout Indiana, Kentucky, and Ohio, and "Train the Trainer" classes in all other areas. For our trainers, this is not something that they struggle to remember once a year at re-certification time. This is what they do day in and day out, 6 days a week and it is what they enjoy! This allows us to provide the best teaching environment for your operators to learn the correct information from a trainer who really believes in what he or she is saying.